Breeyon means "shining" and "Bree" shines in all she does. She is a mischievous little imp, with a sparkle in her eye, always looking for something "fun" to do. This may include grabbing the tail of one of her unsuspecting golden family as they pass by or chasing a squirrel, rabbit, raccoon or any other critter that accidently wanders on to her territory.
Bree now resides and shares her love with brother Tug, and Dana and Diana Oaks. She is enjoying training in obedience and field work with Dana and he is working hard on re-directing her "prey instincts" for more productive results than "critter patrol." She also enjoys curling up on the couch or truck seat with brother Tug.
Bree and Dana have already attained her CGC...so keep an eye out for more of this team's accomplishments.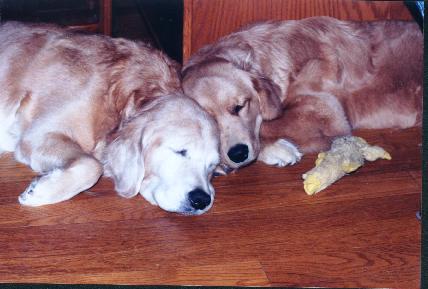 Mama Peach and Bree sharing a quiet moment.